It's not about the weight; it's about the work.

—Coach Ty Terrell, IFAST
That is the most beneficial piece of advice anyone has ever given me about strength training. It's so simple–almost too simple–but extremely operative when you're trying to make exercises harder or more effective. And I've used it as the backbone of my training philosophy.
Sure, I love to push heavy weight around and have my clients do the same, but never at the expense of exercise efficiency, proper technique and safety.
There is definitely a time and place to keep loading on plates, but for enhanced results, you may want to master the move in other ways.
Here are 3 ways to make any exercise harder without adding weight.
1. Increase the Range of Motion
This sounds like a no-brainer, but partial reps, whether they're intentional or not, are way more common than they should be. Half and quarter reps have their place, but nothing will ever trump full range of motion when it comes to increasing size, strength and power.
RELATED: Stability Training Can Improve Your Agility and Range of Motion
A 2012 study in the Journal of Strength and Conditioning Research found that training with full ROM improved muscle strength and thickness more effectively than training with partial reps. A 2014 study concluded that ROM should never be compromised for greater external loading.
Wherever you think your full ROM is right now, there's a good chance you can improve it to reap additional benefits.
Let's take the Barbell Back Squat, for example. This is an exercise that often gets botched. People sacrifice technique for big numbers.
You need to evaluate the connection between your full ROM and your 1-rep max (or whatever you test for). If you have a 1RM Squat of 500 pounds, but only 60 degrees of knee flexion at the deepest point, two things are definitely happening: 1/ you are missing out on loads of glute activation, which occurs when you achieve 90-plus degrees of knee flexion; and 2/ you are squatting in the depth zone at which shear forces on your anterior and posterior anatomy are at their peak.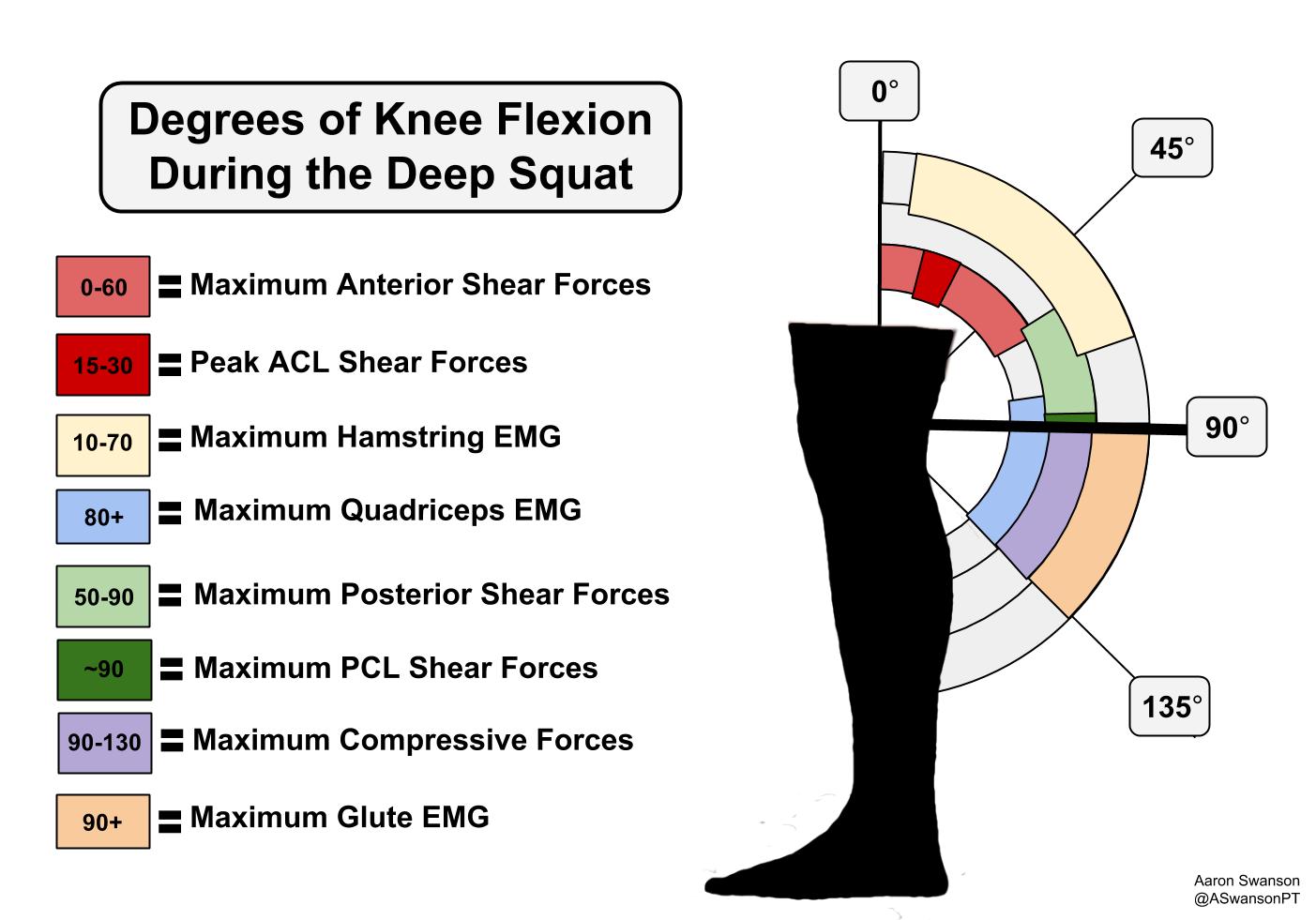 Five hundred pounds on your spine at the peak of shear forces doesn't sound smart, safe or fun to me. Even 90-degree squatters can improve their ROM, though.
According to Dr. Aaron Swanson, the 90-degree point of a Squat is where max shear forces occur on the PCL, on the body and on the posterior chain. In this case, you may want to go past parallel, to 100-135