Kids can start cheer and tumbling classes as early as three to four years old, and competitive teams start kids competing as young as five. As a coach, it may be daunting to be in charge of 5-30 kids of this age for an hour. The average maximum attention span of a 5-year-old is 20 minutes, but it can also be as little as 4 minutes. It can be difficult trying to juggle teaching them skills and holding their attention. However, listed below are some tips for coaching young cheer teams.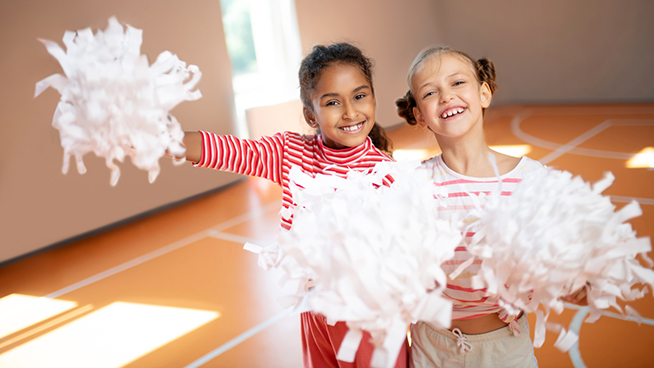 Plan Your Practice
The first tip is to plan out practice before you start. Split practice into sections of 10 to 15 minutes. That way, you are organized, and you know exactly what is going on before you go in.
Practice Plan Example: 10 Minutes Each
Stretch
Tumbling
Stunting
Motions
Drills
Jumps and formations
5-10 minutes conditioning
If you need to spend more time on a section during practice, have them do stunting, then move to something else, then go back to stunting. You could structure practice; however, you need to have a plan for them and make sure you aren't spending too long on any one thing.
Use repetition. If you want your minis to retain information, say it and then have them repeat it. Ask them questions like "What do we do in our jumps?" and have them respond with something like "Point our toes." Say it over and over at different times during practice so that they learn it. When you are teaching them motions, have them do it over and over again. Have them do the same motion about 10-15 times, then move on to the next motion, and then come back to the previous motion and have them do it 10-15 more times.
Make Practice Fun
These kids are just starting in cheerleading. It is their introduction to the sport, and you want to show them that it is fun. Little kids aren't going to care about how they look on the floor at competitions. They want to have fun performing their routine. This doesn't mean that you can't coach them to look good when they compete. It just means that you want them to have fun while looking good. You can do lots of things to make things fun at practice, such as incorporating little games into practice, having a prize box for good behavior, and allowing them to be a little silly. Give them little breaks- like 2 minutes at a time- to run around and have fun with their friends. You could also schedule theme practices such as "twin day" or "superhero day" where they get to come to practice dressed up.
Keep things simple. Try to simplify instructions so that they can understand what you're saying. Put words and counts to motions that you are trying to teach. "Hot counts" are a great way to simplify the routine and help them remember what they are supposed to do. Say the hot counts every time they do the skill and say the hot counts with you. Talk them through the routine.
Kids respond well to visual learning. Ways that you can incorporate visual learning into practice is by doing the motions with them. That way they always have you to look at if they forget a motion and they can just copy you. If you want them to smile, you have to smile too when doing the motions. You can also give them little floor stickers to mark where they are supposed to stand in their formations. If they know where their floor sticker is, they know where they are.
Always Remain Positive and Patient
Remember that this is their first couple of years cheering, and they are just little kids. Try your best to make things fun for them. No matter how hard you try, I guarantee that at a competition, at least one of them will stand there the whole time and not move. One of them will start running around doing their own thing. Many of them will forget their motions. But despite all of that, the crowd will still love every minute and so will the athletes.
As long as you follow these tips when coaching young cheerleaders, you will be able to get a lot more out of your practices and out of your athletes. Just remember to be organized, keep things fun and simple, use repetition, and have a positive attitude. Coaching young athletes can be a big responsibility but it can also be just as fun for you as it is for them.
Read More