If you are looking to quickly gain muscle mass, try the king of all exercises: the Squat. The lower body has massive amounts of metabolism-increasing potential, and the Squat amps it all up perfectly. Adding muscle mass increases the body's basic metabolism rate, helping you burn more calories throughout the day and night. Even while sleeping, you'll burn calories.
When you perform the Squat, it needs to be heavy but safe. If the load is too heavy and your core is not strong enough, you could end up with too much pressure on your spine. An athlete who has never performed the Squat should progressively work his/her way up to adding weight. You should first be able to perform a Bodyweight Squat. Then practice with a broomstick or the barbell. After showing perfect technique with the bar, you can start loading it with safe weight.
Back Squat How-To
Place the barbell behind your neck across your upper back. Before removing the bar from the rack, pinch your shoulder blades together and stick your chest out. Your feet should be shoulder-width apart with your toes pointed out slightly. Keep your back and feet flat, abs tight and chest filled with air. Do not bend at the waist or lean forward.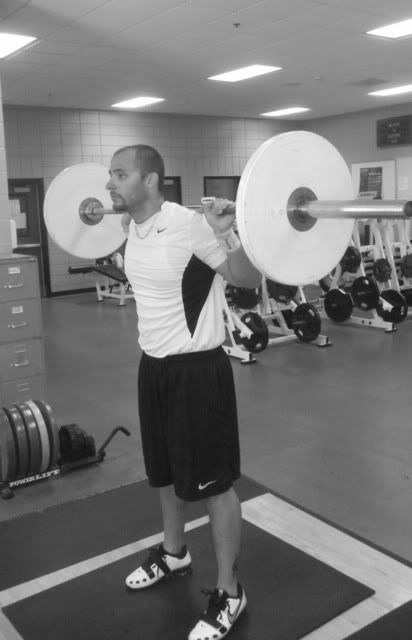 Squat by lowering  your hips back and down. Keep your feet and back flat and your chest up as you drop into a full Squat position, thighs slightly below parallel with the ground. Upon reaching the bottom position, drive up through your heels. Keep your chest up, elbows high and back flat. Once standing upright with the bar on your back, walk the bar safely back into the rack.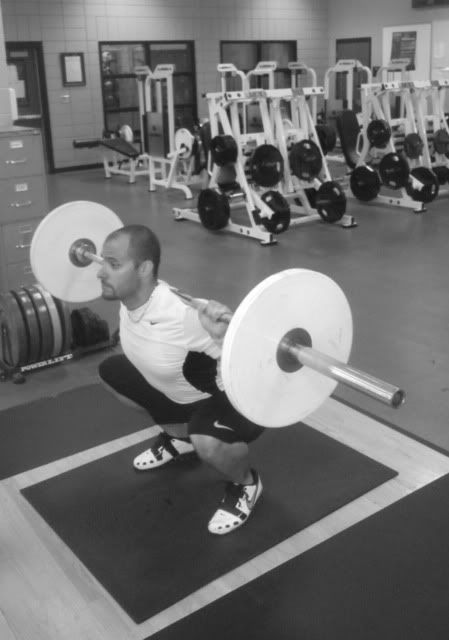 It is very important to always have a spotter when performing Squats. The spotter should make sure you're getting proper depth in the Squat, that your heels are flat on the ground, your eyes looking straight ahead and your chest up. Your knees should not go beyond your toes.
Below are the Set/Reps range you should perform, depending on your specific goal:
Goal: Muscular Endurance
Load: 55-70 percent of one rep max
Sets/Reps: 2-3×12-15
Rest Period: 30 seconds
Goal: Hypertrophy
Load: 70-85 percent of one rep max
Sets/Reps: 3-6×6-12
Rest Period: 30-90 seconds
Goal: Strength/Power
Load: 80-95 percent of one rep max
Sets/Reps: 3-5×1-6
Rest Period: 2-5 minutes
Shelton Stevens is a member of the strength staff at the University of Southern Mississippi. Prior to joining USM, he was the head strength coach at Nova Southeastern University (Fort Lauderdale, Fla.). He has also worked under LSU strength coach Tommy Moffitt, helping to train the Tigers' nationally-ranked football team and their 2009 national champion baseball team. During his career, he has worked with four national champions, seven conference champions and 12 All-Americans. He is CSCCa, SCCC, USAW, NSCA and RSCC certified, and he holds a bachelor's degree in exercise science and a master's degree in athletic administration.