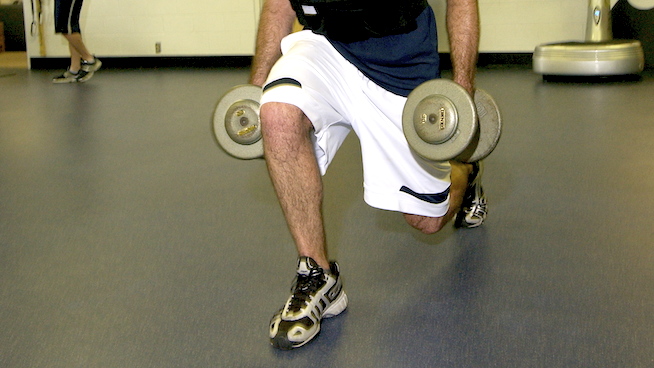 The off-season is a great time for baseball players to improve their game with speed workouts. Here, we'll focus on building your physical foundation, honing your skills and applying that to what you've learned on the field.
Building Your Foundation
Improving speed and agility requires a combination of strength, power and injury prevention work primarily focused on the hamstrings. You need to be able to exert force against the ground quickly, and to do so in a horizontal direction. If you're (understandably) concerned about shoulder health, you may want to consider substituting Front Squats for Back Squats and performing Lunges, Split Squats, and Step-Ups with the bar on the front of your shoulders.
Best Exercises
Squats

Lunges/Split Squats/Step-Ups

Romanian Deadlifts

Good Mornings

Back Raises

Reverse Hyperextensions

Power Cleans

Snatch/Clean Pulls
Honing Your Skills
Taking the time to learn technical skills can help minimize mistakes on the field and save you tenths of a second, which can make a huge difference during both offensive and defensive play.
Best Skills to Master
Acceleration

Shuffling

Crossover Step

Drop Step
Applying Your Foundation
Once you've spent four to eight weeks building your base, situation-specific drills come into play.
As you do these drills, continue to work on your physical foundation and use the fundamental skills exercises as warm-ups.
Here are some sample off-season workouts. The first is a sample week focused on developing your physical and skill foundation; the second is skill application.
Sample Week 1
Monday
Squats: 3×[email protected]%

Romanian Deadlifts: 3×4-8

Dumbbell Bench Press: 3×4-8

Pull-Ups: 3xMax

Front/Side/Rear Deltoid Raises (circuit): 3×10 each

Standing Starts: 3×20 yards

Shuffle Right/Left: 3×5 yards each direction
Wednesday
Clean Pulls + Power Cleans: 3×[email protected]% of Power Clean
Snatch Pulls: 3×[email protected]% of Power Snatch

Standing Starts: 3×60 yards

Cross-Over Step and Sprint 20 yards: 3x each direction

Shuffle Right/Left + Crossover Step + Sprint 5 yards: 3x each direction
Friday
Superset: Split Squats: 3×12-15 each leg + Dumbbell Inline Press: 3×12-15

Superset: Lunges: 3×12-15 each leg + One-Arm Dumbbell Rows: 3×12-15 each arm

Superset: Good Mornings: 3×12-15 + Front/Side/Rear Deltoid Raises: 3×20 each

Superset: Reverse Hyperextensions: 3×15-20 + Triceps: 3×12-15

Biceps: 3×12-15

Biceps/Triceps: 3×12-15 each

Cross-Over Step and Sprint 20 yards: 3x each direction

Shuffle Right/Left + Crossover Step + Sprint 5 yards: 3x each direction

Drop Step + Sprint 5 yards: 3x
Sample Week 2
Monday
Squats: 3×[email protected]%

Romanian Deadlifts: 3×2-6

Dumbbell Bench Press: 3×2-6

Pull-Ups: 3xMax

Front/Side/Rear Deltoid Raises (circuit): 3×10 each

Standing Starts: 3×40 yards

Double Drill: 5x

Shuffle Right/Left: 3×5 yards each direction
Wednesday
Clean Pulls + Power Cleans: 3×[email protected]% of Power Clean
Snatch Pulls: 3×[email protected]% of Power Snatch

Standing Starts: 3×20 yards

Crossover Step + Sprint 20 yards: 1x each direction

Shuffle Right/Left + Crossover Step + Sprint 5 yards: 1x each direction

Base Stealing Drill: 5x

Get Back to First Drill: 5x
Friday
Superset: Split Squats: 3×12-15 each leg + Dumbbell Inline Press: 3×12-15

Superset: Lunges: 3×12-15 each leg + One-Arm Dumbbell Rows: 3×12-15 each arm

Superset: Good Mornings: 3×12-15 + Front/Side/Rear Deltoid Raises: 3×20 each

Superset: Reverse Hyperextensions: 3×15-20 + Triceps: 3×12-15

Biceps: 3×12-15

Biceps/Triceps: 3×12-15 each

Crossover Step + Sprint 20 yards: 1x, each direction

Shuffle Right/Left + Crossover Step + Sprint 5 yards: 1x each direction

Drop Step + Sprint 5 yards: 3x

Outfield Drill: 5x
[cf]skyword_tracking_tag[/cf]